Vintage Paper Play: Collage Cards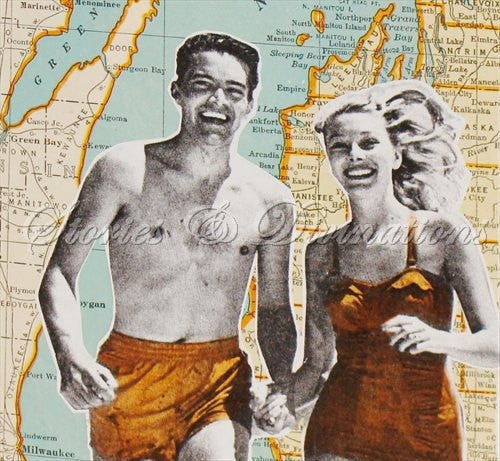 Playing with vintage paper. Collage and Card making at Found!
We're looking forward to another evening of vintage paper play, with local artist Laurie Longo on Thursday, October 13th from 6:30-8:30 at FOUND.  For this event, Laurie will bring her voluminous stash of vintage papers and share the method of making art cards that she developed as the artist behind Stories & Divinations (see below). Laurie's unique take on storytelling through collage promises to make this an interesting evening! 

The $26 fee includes lovely Italian stationary on which you'll create your cards, use of tools and supplies, lots of antique and vintage ephemera, plus the company of others who like to cut and paste! You're welcome to bring some of your own maps or images, of course, but it isn't necessary. There will be plenty to choose from. This is intended as a creative evening for all skill levels, from collage newbies, to artists who crave a night out to play with paper. Register by calling the shop.
In Laurie's words: The stories we tell about the world, our past, our wishes, ourselves tell us how we view the world and our place in it and so, in many ways, they also predict our futures... we become the stories we tell. So always be truthful in telling your story and, when you tell stories, fill them with all the best things in life. 

I am an appellate attorney by day. In that world, text - books and digital - completely rule not only me and my time, but the substance and outcome of everything. I've learned through 20 years of that work that our character, our decisions, our pasts, and even our futures - are largely determined by the stories we tell to ourselves and about ourselves. By night, I exact a lovely sort of revenge on books and make up stories to love in the form of art, journals, cards, and jewelry, all made out of the text and images from old books combined with ordinary, interesting odds and ends from the past. Life is much, much happier as a result.

Many, many years ago before law school I attended Pratt Institute and Columbus College of Art and Design. For the last twenty years or so, I've been reading like mad, practicing  law, raising two boys (almost done!), and attending to various animals who join us from time to time.  

- Laurie Longo, Stories and Divinations