FORESHADOWING with Photographer Jane Kramer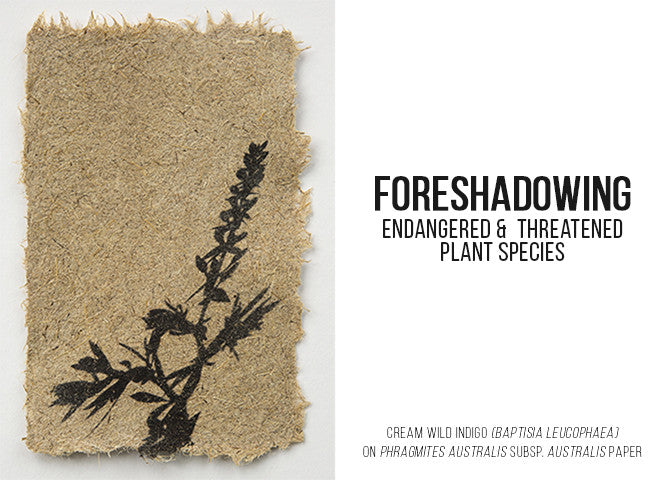 Art Show: February 24th through March 19th
Found is pleased to present a fascinating collection of botanical art by Michigan photographer Jane Kramer. For her "Foreshadowing" project, Jane photographs the shadows of endangered plant species and transfers the images onto paper she makes from invasive plant species. 
Here is Jane's description Foreshadowing:
The projects I create are motivated by a story, message, or educational element and focus on subjects that are delicate, forgotten or underappreciated. In Foreshadowing, the focus is Michigan's endangered and threatened plant species. Many of these native plants are disappearing from their natural habitat due to invasive plant species. I photograph the shadows of endangered plants which speak to the fragile, ephemeral nature of endangered and threatened plant species and their struggle to survive in a dynamic environment. Using an alcohol gel transfer, the shadow images are printed on paper made from invasive plant species. The images appear somewhat transparent and, because of the paper, irregular. This coupling of shadow and invasive plant paper reflects the complex relationship between invasive and endangered plant species. 
Sunday, February 26. 12-5pm. Meet the Artist Reception.  
Slideshow presentation of project and process, plus demo of gel transfer technique onto invasive species paper at 1:30. Join us around the back counter at Found for an interesting afternoon! Refreshments served.
Limited edition prints, many framed in reclaimed wood, will be available at Found during this 4 week show.  A portion of each sale is donated to Michigan Nature Association.  
See www.JaneKramer.com for more information about this project.
Sunday, March 5th. 12:30 - 2:30. Paper making with Karen  Koykka O'Neal. 
Curious about how the handmade paper Jane uses in her art is created? We're thrilled that the person who taught Jane will show you. Karen Koykka O'Neal, from Out of Hand Papermaking Studio in Ann Arbor, will be at Found to answer your questions. Drop by the back counter at Found between 12:30 and 2:30 on Sunday, March 5th to see a demo and learn about the secret life of paper. And perhaps make a small piece of paper to take home! This session is free and open to everyone - a great opportunity to learn and play with paper making with a nationally known teacher! If you'd like to make your own small sheet of paper, please come early and get your name on the list, as our space is a bit tight. The hands-on part of the session will be first come-first serve.
Starry campion shadow print